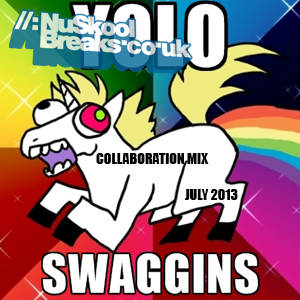 NuSkool Breaks Collaboration Mix July 2013
High Guise,
NSB are back again with another Collaboration Mix for this lovely month of July.
Rather than just Breaks we have in store a plethora musical genres this time to whet your earbuds. And when I say plethora of genres I mean mainly house.
Entertainment this time around is provided by the following individuals:
Clodhoppa, Lander, Bingo Jesus, Boy Nukem, Erebus, Moif and Mobius.
As you can see from the cover we are still down with the kids and like unicorns.
Enjoy.
Tracklisting:
Clodhoppa:
Breach – Fatherless (Pattern) Dark Sky – Tremor (Black Acre) GoldFFinch – Model (Audio Culture) Untold & Roska – Long Range (Numbers) Samuel H Simpson – Spronkle (Take)
Lander:
Joel Alter, Henrik Jones – Djup House (Dorisburg Mix) STL – Silent State Tom Budden – Smolder (Pedramovitch Mix) George, Greg Silver – Itcjy Kutchy (Bearweasle Rethink)
Bingo Jesus:
Jacques Green & How to Dress Well – On your Side Sound Pellegrino Thermal Team – Bassface (Ardalan Remix) Manare – Down to Dis Chaos in the CBD – I'm losing you Bambounou – Fake Jake Sasha & Charlie May – Seal Clubbing (James Zabiela Seal Squeal Remix) Renaissance Man – Stalker Humanoid The Martins Brothers – Dum Girl Unit – Ensemble (Club Mix)
Boy Nukem:
Maribou State – Puppet Strings Maribou State – Pagoda Tanka – Salwa Trikk – Floorwave Dauwd – And Bonobo – Know You
Erebus:
System 7 – Positive Noise De'Lacy – Hideaway (Deep Dish Special Edit) Kosmas Epsilon – Paranoid (Eelke Kleijn Remix) Lustral – Many Years From Now (D-Nox & Beckers Remix) NOP – Cubic Loop (D-Nox & Beckers Remix)
Moif:
Touch Sensitive & Anna Lunoe – Real Talk (Cassian Remix) Junk Rhythm Section – Falling (Kolombo Remix) Nora En Pure – Come With Me (Original Mix) Bordertown – You (Club Mix) Ridney – It's Over (Talul Remix) Riva Starr featuring Rssll – Detox Blues (Club Mix)
Mobius:
Dopamine – Hold You Royksopp – What Else Is There (Trentemoller Breaks Mix) Beatman & Ludmilla – Inka (Plastic Shell Remix) Dekoy – High Rise (Dopamine Remix) Chris Carter & JHZ – Big Chat Viva City – Mynxx (Ways & Means Remix) Beatman & Ludmilla – Lizarb The Sad Clown (Plastic Shell Remix)
---